Debatemne: Thai-Dk Din debat side :: Total Skøre Falanger
---
Oprettet af Je suis Charlie d. 26-01-2017 13:47
#1
---
Aussie Asshat Pranking His Pal In Phuket
The thing is, this pair of pillocks seem to miss the point that their jokes and pranks aren't funny when they are imposing them on others… like the stall holder selling the shorts and tees in the clip.
read more
https://www.stick...al-phuket/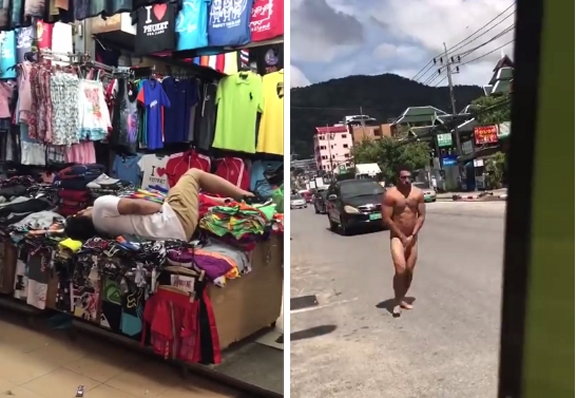 ---
Redigeret af ADM d. 20-12-2019 08:59
Oprettet af Je suis Charlie d. 26-01-2017 13:53
#2
---
Farrang Vandals Pulling Down Thai Flags
The two men were walking past Sunny Fashion in Krabi when one decides it would be a good idea to tear down a flag. Not wanting to be outdone, his bellend buddy then goes about pulling down another three flags.
read more
https://www.stick...hai-flags/
---
Redigeret af ADM d. 10-09-2018 02:39
Oprettet af M55 d. 28-01-2017 08:07
#3
---
Pattaya Police Hunt Prankster Who Paid Girls With Fake Cash To Flash
Pattaya police are on the lookout for a YouTube prankster who approached women offering them $100 to show him their boobs, paying those willing to flash their funbags with fake money.
Viktor Crazy has uploaded several videos from Pattaya in the past week including, "Girls Want To Have Sex" in which he walks around in a Borat style mankini.
In another he named "Do You Wanna Suck" the Ukrainian – who claims he's an American from Las Vegas – misleads women into thinking he wants a blowjob before handing them a lollipop and then the one that caught the attention of cops, "ASK GIRLS TAKE OFF ALL CLOTHES FOR MONEY !! HOW MUCH SHOW ?!".
Read More:
https://www.stick...ash-flash/
---
Redigeret af ADM d. 05-02-2017 06:16
Oprettet af reve d. 05-02-2017 06:12
#4
---
Two boozed-up Brits attacked a Pattaya bar manager after they were asked to settle their bill and leave the Soi 6 bar.
Sam Bates, manager of Roxy Bar, was left needing 17 stitches to his head and legs following the unprovoked attack by two British men, one of whom was named as Shaun Robson from Middlesbrough, England.
https://www.stick...ger-video/
---
Redigeret af ADM d. 10-09-2018 02:44
Oprettet af bz d. 06-02-2017 10:22
#5
---
Farrang Waiter Working At A Chinatown Restaurant
en temmelig dum falang der arbejder som tjener, et job som han ikke kan få en arbejds tilladelse til
det varer ikke lang tid før at de små sorte kommer og henter ham når han udstiller sig selv på nettet
---
Redigeret af ADM d. 10-09-2018 02:48
Oprettet af ribe d. 09-05-2017 15:21
#6
---
så fik de fat på manden der fik 1000 baht i bøde ((8((
SURAT THANI - A Spanish man caught in a video clip having sex with a foreign woman on Koh Samui in broad daylight was charged and fined 1,000 baht.
The 28-year-old foreigner (name withheld) admitted he was the man in the clip when police tracked him down to a hotel room on Hat Ban Nathon beach in tambon Ang Thong on Tuesday,said Pol Col Paithoon Krajajang, chief of Koh Samui police.
http://www.bangko...each-fined
---
Redigeret af ribe d. 09-05-2017 15:24
Oprettet af harry eker d. 27-09-2018 05:09
#7
---
han er godt nok sur, den gale englænder der klager over at auto værkstedet larmer, der skal sku være ro i gaden efter kl 1800
---
Redigeret af harry eker d. 27-09-2018 05:13
Oprettet af alene d. 14-10-2018 09:08
#8
---
En turist har slettet et foto af ham selv på Twitter, der laver en håndstand foran en Buddha figur inde i Wat Pho og givet en undskyldning.
Jeg vil sige undskyld til alle. Det var ikke min mening at såre nogle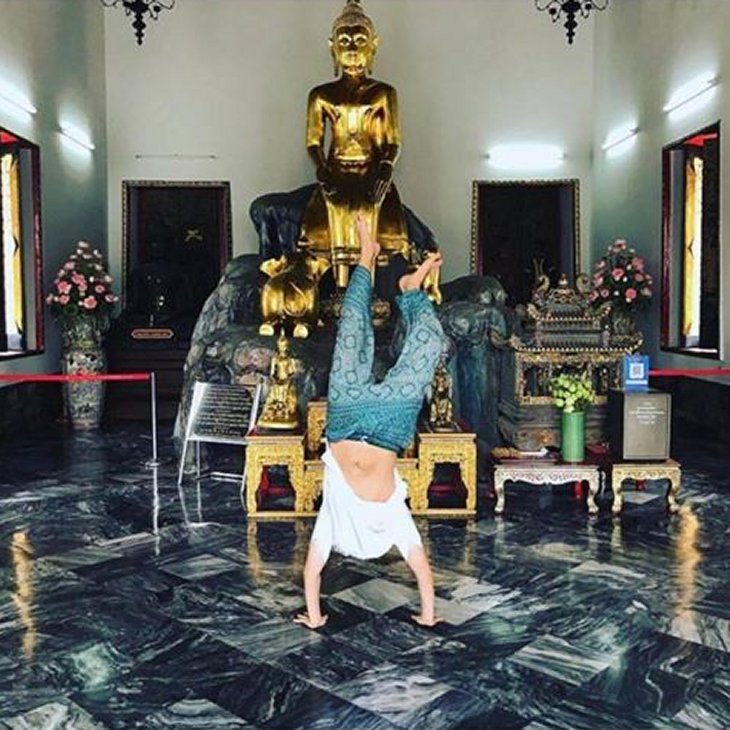 ---
Redigeret af ADM d. 02-01-2019 02:33
Oprettet af alene d. 30-10-2021 09:58
#9
---
Rooftopping/Urbex Bangkok
Oprettet af Je suis Charlie d. 18-01-2022 16:34
#10
---
Udlænding går amok... men taler fantastisk thai
Denne udlænding vakte bekymring, da han opførte sig uberegnelig foran biler i Bangkok.
Politiet ankom, og efter et par ord lod de ham gå.
This foreigner sparked concern when he was behaving erratically in front of cars in Bangkok. Cops arrived and after a few words, they let him go.
Clearly he was worse for wear, but in his defence, he spoke great Thai and even knew how to wear one of their loin cloths properly.
Oprettet af JohnJ d. 23-01-2022 17:22
#11
---
Hold k... en kolbøtte! Måske en Ajarn der er blevet vanvittig "by going native"?